Dermaxgen® 60 Second INSTANT Wrinkle Corrector Reduce Deep Wrinkle & F
Dermaxgen® 60 Second INSTANT Wrinkle Corrector Reduce Deep Wrinkle & Fine Lines ANTI-AGING SOLUTION
Dermaxgen® 60 Second INSTANT Wrinkle Corrector Reduce Deep Wrinkle & Fine Lines ANTI-AGING SOLUTION
Orders ship within 5 to 10 business days.
Hoorey ! This item ships free to the US
60 SECOND REVERSE THE SIGNS OF AGING: Clean your Facial skin free of oil, select the target area & apply the small-sized amount, evenly cover all the correcting areas. Avoid making facial expressions until the serum absorbs into skin & use the cream as sweeping & patting motions to penetrate the skin. Tightening pores, firming your complexion, reducing visible signs of aging, such as wrinkles & fine lines. Giving You A Firming Skin Lasting Up To 8-10 Hours.
INSTANT WRINKLE CORRECTOR: Our Moisturizer is Lightweight and Fast Absorbing, Anti Aging Cream for Appearance of Fine Lines, Wrinkles, Dark Circles, Eyebags - for Under and Around Eyes. Our Combination of ingredients helps to reduce mouth Corner Wrinkle Remover/Temporary Instant Face Wrinkle Remover for Woman, Men. dermaXgen's Wrinkle corrector effectively binds water to cells and is responsible for the elasticity and resiliency of the skin.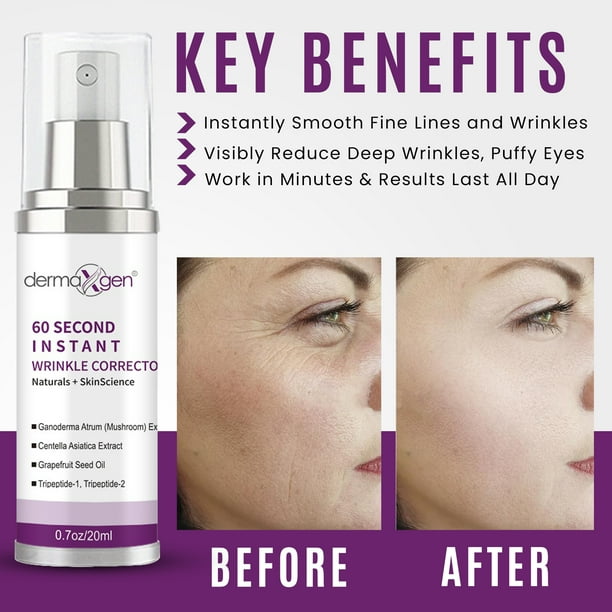 ACHIEVE YOUR DESIRED SKIN: Lift tightens and rejuvenates your skin. You can feel it working, tightening pores, firming your complexion, and reducing visible signs of aging, such as wrinkles and fine lines around the eye and mouth area. With dermaxgen natural and organic plant-based ingredients treatment, your skin will be healthy and protected.
SKIN SCIENCE: Virtually erase the signs of aging with dermaXgen Instant Wrinkle Corrector. Light-diffusing minerals fill the gaps to perform a real-life wrinkle vanishing act. This velvety formula fills creases & creates an instant soft-focus illusion that effectively diminishes the look & definition of deep wrinkles & fine lines. This astonishing cream provides an immediate result that renders smoother, radiant, and youthful with collagen-rejuvenating peptides & skin-smoothing silicones.

BENEFITS: Light-diffusing minerals provide soft-focus effect, Fills wrinkles and fine lines for a smoother appearance, Peptides work to improve overall skin vitality. It boosts collagen health; Mattes skin for a flawless finish Provides a soft and smooth feel. Helps to even skin texture Restore skin to optimum appearance Minimizes the appearance of pores, Erases the dark circles and puffiness under the eyes.