DERMAXGEN 30% Lift and Firm Serum Matrixyl 3000, Hyaluronic Acid Anti-
DERMAXGEN 30% Lift and Firm Serum Matrixyl 3000, Hyaluronic Acid Anti-Aging /Wrinkle Collagen - 2 Fl Oz
DERMAXGEN 30% Lift and Firm Serum Matrixyl 3000, Hyaluronic Acid Anti-Aging /Wrinkle Collagen - 2 Fl Oz
Orders ship within 5 to 10 business days.
Hoorey ! This item ships free to the US
ELASTICITY REPAIR: Dermaxgen Palmitoyl is a highly effective peptide composition that stimulates collagen & elastin production. The concentration of 30% Palmitoyl combined with HYDRAULIC, Peptide Complex, VITAMIN C delivers dramatic anti-aging serum. Palmitoyl is well known for repairing & restoring serum. Dermaxgen Palmitoyl Tripeptide "Anti-wrinkle serum penetrate multiple layers of skin, fast-absorbing non-greasy, lightweight formula & give the most intensive results. Recommended for all skin
NATURAL INGREDIENT: Combination of natural ingredients controls the aging process. Palmitoyl Tripeptide stimulates collagen & elastin production. Acetyl hexapeptide relaxes facial muscles tensions, rejuvenates the skin. Acetyl hexapeptide is known as Natural Botox. HYALURONIC makes intense hydrating & moisturizing skin with a radiant, youthful look. Peptide Complex Creates Smoother, Tighter Skin. VITAMIN C helps skin cells resist the sun's damaging effects, strengthens & protects skin barriers.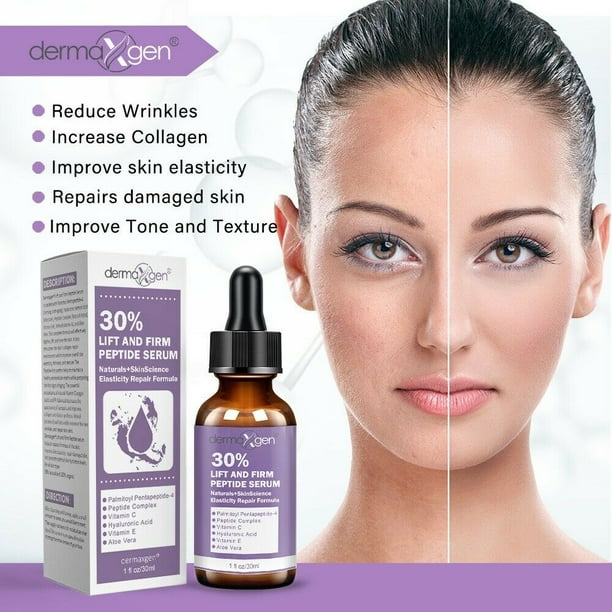 YOUTHFUL SKIN: Fine lines & wrinkles are part of the natural aging process as the skin gets thinner, drier & less elastic with age. As aged the skin production slows down & proteins collagen, elastin building blocks of youthful skin being broken down faster than new ones are produced, it triggers the aging process. As a results skin dull complexion, sagging skin, folds & creases deeper into the skin's layers. Palmitoyl has a powerful effect on repairing damage in restoring aged skin.
PALMITOYL TRIPEPTIDE: Palmitoyl is a compound that is created by combining two existing peptide groups, palmitoyl tetrapeptide-7 & palmitoyl oligopeptide, resulting in an entirely new peptide group. Palmitoyl is a highly effective composition that has been shown to stimulating the production of collagen and elastin, fill in fine lines & wrinkles while restoring elasticity. Palmitoyl combination with natural ingredients achieved a 33% decrease in wrinkle density, 28% in volume, 32% in depth.
PROTECT YOUR BEAUTY BY NATURE: Formulated with a unique three combination of age-defying & skin protective ingredients. Use dermaxgen serum in the morning & at night and see visible results in 4 week. Our serum is toxic Chemicals, Fragrances, Parabens. Phthalates. Vegan and cruelty-free. The face anti-aging Skin Lifting cream, rejuvenates and reduces the signs of premature aging.