Dermaxgen Slimming Cream For Tummy, Abdomen, Belly and Waist Firming C
Dermaxgen Slimming Cream For Tummy, Abdomen, Belly and Waist Firming Cream - 100% ORGANIC NATURAL Anti Cellulite Cream - Natural Ingredients
Dermaxgen Slimming Cream For Tummy, Abdomen, Belly and Waist Firming Cream - 100% ORGANIC NATURAL Anti Cellulite Cream - Natural Ingredients
Orders ship within 5 to 10 business days.
Hoorey ! This item ships free to the US
EFFECTIVE ORGANIC RESULTS: After bath or shower, we recommend you apply a liberal amount to your desired area, take cream over your palm, massage into the target areas, allow the skin to absorb it, that you want to slim down. Applying twice daily with continuous use for 2 to 3 months, to enhance the effectiveness of the cream followed by any exercise will have more effective results.
ORGANIC CELLULITE REMOVAL: Our powerful slimming cream can accelerate the burning of fat, speed up metabolism, and lose weight. So you can get rid of cellulite, eliminate excess substances in the body and inhibit the absorption of excess nutrients, leaving you perfectly toned, and get the slimming appearance you've been looking for! Does not contain any preservatives, and is suitable for all kinds of skin.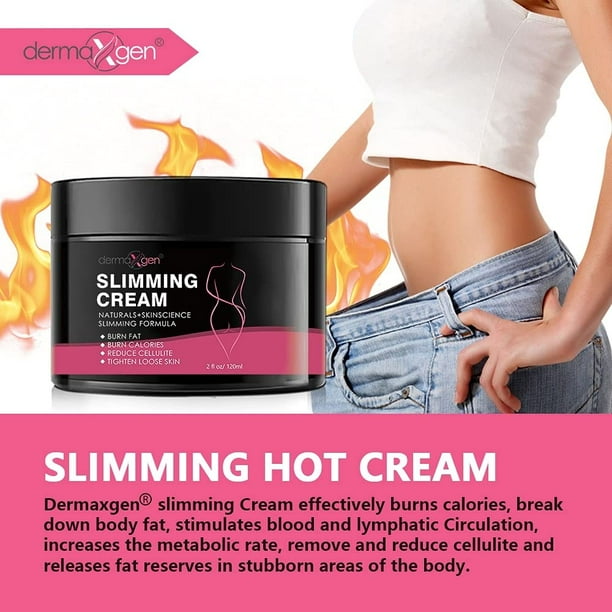 PURE NATURAL INGREDIENTS: Dermaxgen slimming cream is a pure natural anti-cellulite cream, accelerates body metabolism absorption, helping body to get rid of fat cells and harmful toxins resulting in extremely slimming and firming the skin. 100% Natural ingredients promote the elimination of fat cells, harmful toxins, and lose weight, resulting in weight loss and detoxification of your body.
DESIRED BODY: Natural plant ingredients, which can prevent it from causing unnecessary harm to the body and it can burn fat quickly, eliminate excess fat in the abdomen, thighs, legs and arms also, you can use other parts of the body where you think necessary. You can gradually build, shape a nice and attractive body.
PRECAUTIONS: It may have a slight burning sensation when used, which is normal. Test a small amount on skin first before applying to larger areas. if it causes irritation, please discontinue use. Wash hands after use and Keep out of reach of children and pets.