INSTANT FACE LIFT - Lifts Tired Skin, Facial Firming, Fine line Remove
INSTANT FACE LIFT - Lifts Tired Skin, Facial Firming, Fine line Remover & Wrinkle Soothing - Visible Results Instantly - 15 ML
INSTANT FACE LIFT - Lifts Tired Skin, Facial Firming, Fine line Remover & Wrinkle Soothing - Visible Results Instantly - 15 ML
Orders ship within 5 to 10 business days.
Hoorey ! This item ships free to the US
Achieve Your Desired Skin: Lift tightens and rejuvenates your skin. You can feel it working, tightening pores, firming your complexion, and reducing visible signs of aging, such as wrinkles and fine lines around the eye and mouth area. With dermaxgen natural and organic plant-based ingredients treatment, your skin will be youthful and protected.
Youthful Skin Instant: Dermaxgen Instant Face lIft Contains the Organic ingredients, which works to fill in & smooth over creases & gaps, while simultaneously diffusing light evenly over the skin's surface. In addition, Palmitoyl Tripeptide-38; a Tetrapeptides, supports matrix molecules help boost collagen & improve the appearance of wrinkles.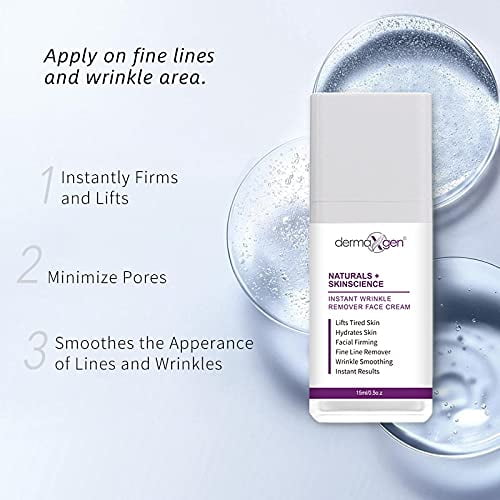 Organic Instant Results: Clean your Facial skin free of oil, select the target area & apply the small-sized amount, evenly cover all the correcting areas. Avoid making facial expressions until the serum absorbs into skin & use the cream as sweeping & patting motions to penetrate the skin. Tightening pores, firming your complexion, reducing visible signs of aging, such as wrinkles & fine lines. Giving You A Firming Skin Lasting Up To 8-10 Hours.
Skin Science: Virtually erase the signs of aging with Dermaxgen Instant Face Lift. Light-diffusing minerals fill in the gaps to perform a real life wrinkle vanishing act. This velvety formula fills creases and creates an instant soft-focus illusion that effectively diminishes the look and definition of deep wrinkles & fine lines. astonishing cream provides an immediate results.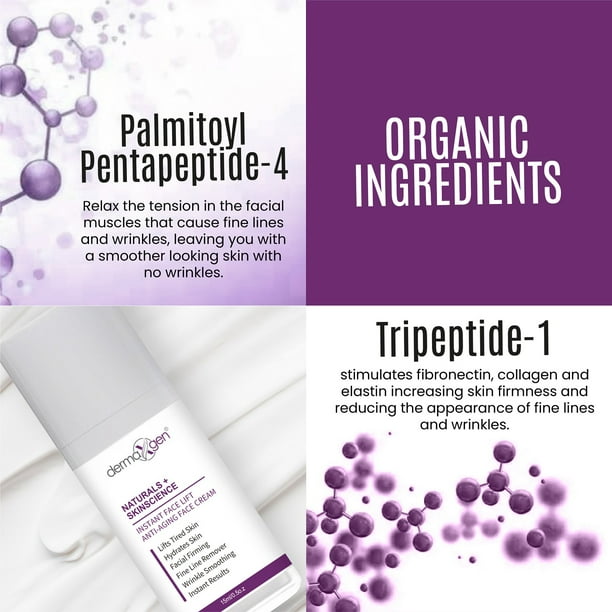 Scientifically Designed:Revolutionary minerals utilize light alteration to redirect and reduce light that's reflected on the skin. This technology scatters, absorbs, and diffuses light to hide undesired visible aspects such as fine lines an wrinkles. Peptide Power Youth-activating peptides work to boost collagen skin cells, and enhance the appearance of aging skin by helping it to look firmer and smoother, while improving the look of facial contours.