PURE 100% Hyaluronic Acid Serum Anti Aging Intense Anti Wrinkle Serum
PURE 100% Hyaluronic Acid Serum Anti Aging Intense Anti Wrinkle Serum
PURE 100% Hyaluronic Acid Serum Anti Aging Intense Anti Wrinkle Serum
Orders ship within 5 to 10 business days.
Hoorey ! This item ships free to the US
DermaXgen® Hyaluronic Acid Serum for Face & Eyes for Anti-Aging, Moisturizing, Antioxidant & Wrinkle Treatment. Best Hydrating Pure Facial Serum for Fine Lines Suitable for Dry/Sensitive skin. Skin Moisture Formula Give your skin a hydrating boost with dermaxgen® 100% Hyaluronic Acid Serum. Instantly relieves parched skin upon application, delivering intense hydration where it's needed most. Formulated with the purest form of hyaluronic acid, this serum has the unique ability to provide long-lasting moisture by continuously drawing moisture from the air to the skin's surface and sealing it in, leaving skin smooth, plump, and perfectly primed.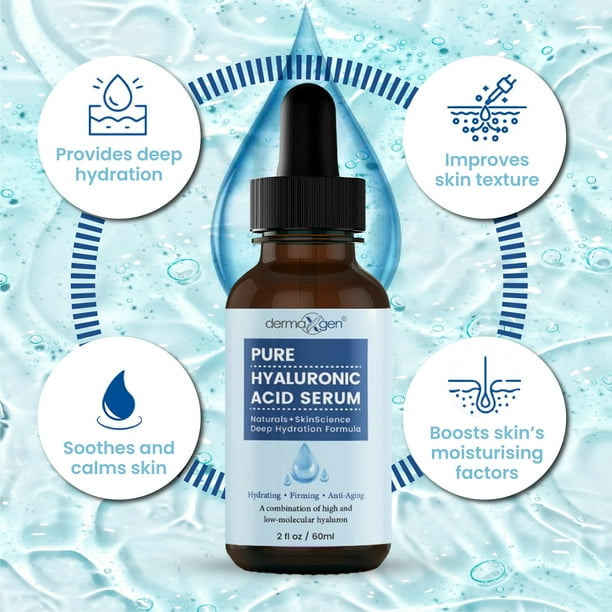 Boosts skin's bounce, continuously hydrates and firmness, Incredibly controls the aging process.
Improves skin's suppleness and elasticity, plumps and balances moisture in the skin, reduces inflammation, dry or irritated skin, eczema.
Rejuvenates, firmer skin renders to smoother and younger-looking skin and Significantly reduced wrinkles, fine lines around the eyes, forehead, and mouth.