TURMERIC FACE MASK PIGMENTATION+BLEMISH CORRECTOR+DARK SPOTS+ BRIGHTEN
TURMERIC FACE MASK PIGMENTATION+BLEMISH CORRECTOR+DARK SPOTS+ BRIGHTENS+ HEALS
TURMERIC FACE MASK PIGMENTATION+BLEMISH CORRECTOR+DARK SPOTS+ BRIGHTENS+ HEALS
Orders ship within 5 to 10 business days.
Hoorey ! This item ships free to the US
Power of Turmeric and Antioxidants: Dermaxgen® Turmeric Face Mask Rich in antioxidants, turmeric protects youthful skin cells against free radicals. If not treated, free radicals can cause damage to collagen by clinging to it. Collagen is the protein that provides structure and support to our skin. If the collagen gets weaker, it can lead to fine lines & saggy skin. Regular turmeric can delay the onset of wrinkles, dullness, dark spots, & aging skin. It protects the skin from environmental stressors.
Sweet Almond Oil: Rich in Vitamin A, vitamin E, Omega-3 fatty acids, and Zinc, all of which work wonders for the skin. Vitamin A contains retinol that stimulates skin cell production and helps smooth the fine lines. Vitamin E has antioxidant properties. Omega-3 fatty acids are known for preventing premature skin aging. Whereas Zinc heals acne and facial scars. Adding this ingredient to our face mask adds the following.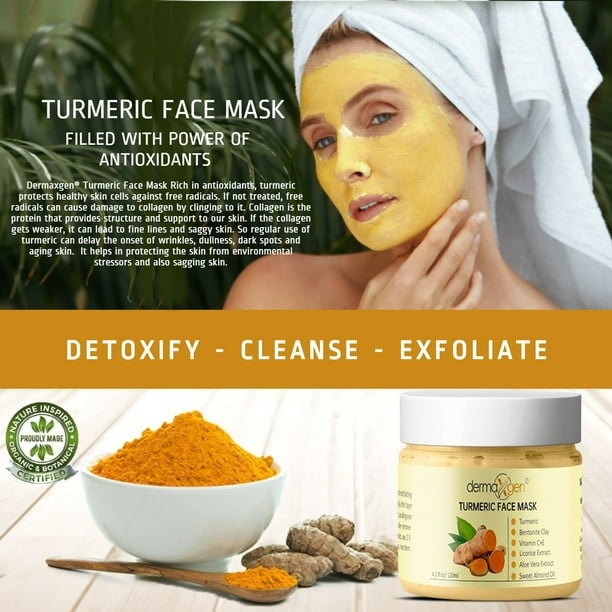 Benefits: 1.Reduced dark circles and puffiness. 2.Improved skin tone and complexion. 3.Remedy for dry skin conditions. 4.Treatment for acne. 5.Aid in reversing the damaging effects of sun exposure. 6.Removing acne and facial scars
Pure Organic Formula: Dermaxgen® Face Mask Turmeric has strong antioxidants combined with Vitamin C, Aloe Vera, and sweet almond oil rejuvenates the uneven skin tone and restores skin feeling soft, supple, and glowing. Environmental pollution can cause damage to the skin. Early signs of aging and can produce free radicals, damage the skin's elastin and collagen. Turmeric with powerful natural ingredients can eliminate free radicals and resolve skin sagging, water retention, dullness, and wrinkles, and leaves your skin softer and supple.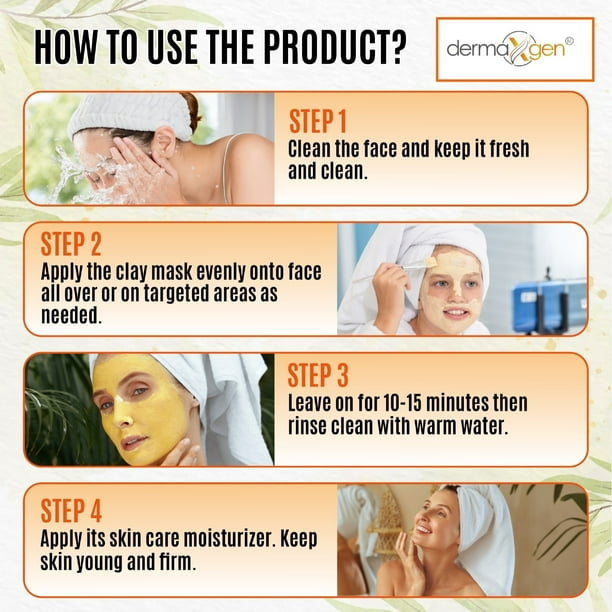 Bentonite and Kaolin Key Ingredients: Bentonite clay is used to detoxify the skin. It is a natural clay that is used to absorb all the oil, dirt, and toxins from the skin. It also contains minerals such as iron, calcium, and magnesium, which have soothing effects on dry skin breakouts. Bentonite acts as a protectant against environmental skin damage. Kaolin clay rich in silica, & neutral pH. It acts as a cleanser; gently gets rid of skin dullness by removing dead cells and cleansing the pores by absorbing impurities. Kaolin clay also prevents pore-clogging by sticking to the facial oil, toxins, and dead cell. It calms the irritated skin, fights acne by removing acne-causing particles from the skin.