30% Vitamin C With Turmeric Glow Boosting Moisturizing, Skin Repairing & Hydrating Cream for Face, Neck, Decollete - Organic Ingredients Anti-Aging Facial Cream - 1.7 FL OZ.
Orders ship within 5 to 10 business days.
Hoorey ! This item ships free to the US
RADIANT TURMERIC SKIN: For centuries people all over the world have used turmeric for its healing and cosmetic properties. This bright yellow spice is available as a ground spice, in supplement form, or also in various beauty products. Turmeric has potent natural, organic antioxidant properties. These characteristics of turmeric provide luster and glow to the skin. Turmeric also helps revive and boost the skin by bringing out its natural glow.
PERFECT REPAIR, MOISTURIZING TREATMENT: Turmeric Vitamin C serum is a natural moisturizing & repair formula that helps your skin from inside, recharges your skin. The Serum has aloe vera extract, sodium hyaluronate, Centella Asiatica extract, & sophora Angustifolia extract With nourishing vitamins, turmeric, & other rejuvenating organic natural ingredients, this serum is the perfect anti-aging, moisturizing treatment for your skin.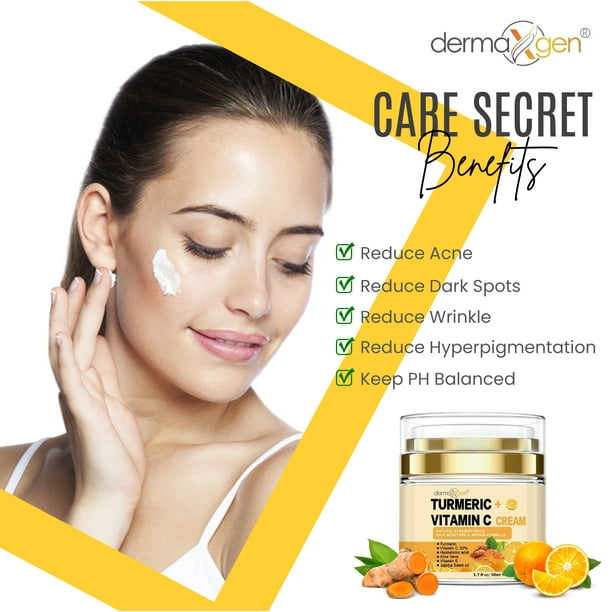 SKINSCIENCE: Turmeric can help you improve skin texture and glow, also slowing down the effects of aging on the skin, & the skin's elasticity. Turmeric and Vitamin C potent anti-aging properties increase the skin's ability to produce elastin, which gives your skin structure and keeps it rejuvenated and nourishes. It fights signs of aging like dark circles, dry or textured skin, dullness, and even tone. It boosts collagen production.
POWER OF ANTIOXIDANT PROPERTIES: The antioxidant-rich properties of this turmeric and vitamin C serum are the natural solution for repairing all skin-related conditions, protect against aging skin, restores elasticity, reduces fine lines and wrinkles, and repairs the skin's surface to give you youthful and glowing skin. Regular turmeric can delay the onset of wrinkles, dullness, dark spots, & premature aging skin.
BLEND OF TURMERIC VITAMIN C: Our blend of natural ingredients infused with a combination of vitamin C and turmeric that minimizes expression lines and wrinkles, age spots, sagging skin, and collagen loss and controls premature aging process. With daily use of turmeric serum gives radiant glow to your skin. You will notice deeply hydrated and moisturized skin in 2 weeks. A youthful complexion by restoring moisture balance to reveal younger, supple skin.