TURMERIC SOAP BAR - ORGANIC INGREDIENTS CALENDULA + ALOE VERA + SHEA B
TURMERIC SOAP BAR - ORGANIC INGREDIENTS CALENDULA + ALOE VERA + SHEA BUTTER + OLIVE OIL + ZINGIBER + COCONUT OIL FOR FACE AND BODY CLEANSER FOR MEN, WOMEN AND TEENS - 100GM
TURMERIC SOAP BAR - ORGANIC INGREDIENTS CALENDULA + ALOE VERA + SHEA BUTTER + OLIVE OIL + ZINGIBER + COCONUT OIL FOR FACE AND BODY CLEANSER FOR MEN, WOMEN AND TEENS - 100GM
Orders ship within 5 to 10 business days.
Hoorey ! This item ships free to the US
Turmeric Soap Bar - Organic Ingredients Calendula + Aloe Vera + Shea Butter + Olive Oil + Zingiber + Coconut Oil for Face and Body Cleanser for Men, Women and Teens
Our handmade soaps for women, men & teens exceed quality standards to bring you the very best skincare products. Made with raw turmeric powder, this natural soap is our pride & joy.
Handcrafted from the purest ingredients available, the all natural bar soap is as pure as they come.
Naturally gluten-free & vegan, the ingredients used to create this turmeric bar soap prove nature holds the secrets to true beauty.
Use the soap bar as a skincare cleanser to lighten the skin. Turmeric has been shown to gently buff away dullness & dark tones for a brighter complexion that radiates a gorgeous glow.


BLEND OF TURMERIC: Turmeric and a natural ingredient blend minimize expression lines and wrinkles, age spots, sagging skin, and collagen loss and control the premature aging process. Daily use of turmeric soap gives a radiant glow to your skin. You will notice hydrated and moisturized skin in 2 weeks a youthful complexion by restoring the moisture balance to reveal younger, supple skin.
RADIANT TURMERIC SKIN: For centuries people all over the world have used turmeric for its healing and cosmetic properties. This bright yellow spice is available as a ground spice, in supplement form, or also in various beauty products. Turmeric has a potent natural, organic antioxidant properties. These characteristics of turmeric provide luster and glow to the skin. Turmeric also helps revive and boost the skin by bringing out its natural glow.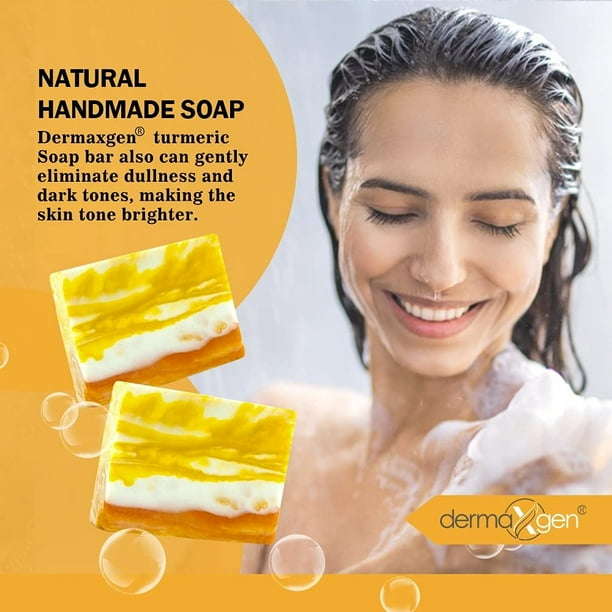 ORGANIC ACNE SOLUTION: The antioxidant-rich properties of this turmeric soap are the natural solution for repairing all skin-related conditions. Specially treat and prevent acne by removing toxins and excess oils. It helps heal, diminish acne scars, damaged skin, aging skin, stressed skin, uneven skin, acne-prone skin. Turmeric soap repairs the skin's surface to give you youthful and glowing skin recommended for all skin types.
CLEANSING AND DETOXIFYING: Dermaxgen handmade turmeric soap bar is full of beneficial natural ingredients that have powerful properties and are ideal for purifying, cleansing, and detoxifying your skin. Using this soap regularly will nourish your skin, making it soft, protected, and hydrated. Turmeric also helps revive and boost the skin by bringing out its natural glow.


MOISTURIZING TREATMENT: Dermaxgen Turmeric Soap combines with olive oil, ginger extract and glycerin is essential as it acts as a humectant, which helps the skin retain moisture. It relieves dryness of the skin, boosts hydration, moisturization and helps the wound-healing process. Turmeric helps greatly for those with dry skin, refreshes the surface of the skin.